Fightz.io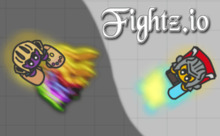 Rating:
Developer:
Last Updated:
Released Date:
4.1

(154235 votes)

Playem.io
N/A
N/A
Play Now
What is Fightz.io?
Prepare to unleash your primal instincts in this online multiplayer player-versus-player battle arena game. With different locations to explore, each with unique creatures and characteristics, Fightz.io offers a wild virtual adventure. Whether you're hunting rabbits or facing fire-breathing dragons, the game provides an immersive experience for players seeking excitement and challenge. Claim your spot on the leaderboards by defeating opponents from around the world.
How to Play Fightz.io?
Play this game Fightz.io on Playem.io for free.

Fightz.io Update Notes
N/A