Swordz.io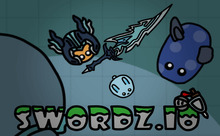 Rating:
Developer:
Last Updated:
Released Date:
4.2

(1145355 votes)

Playem.io
N/A
N/A
Play Now
What is Swordz.io?
Swordz.io is an online multiplayer game that revolves around sword-based combat. It falls under the popular ".io" game genre. In this game, players control a character equipped with a sword and engage in battles against other players within a virtual arena. The main goal is to defeat opponents and rise through the ranks to become the most powerful player. Swordz.io may offer different game modes, opportunities for upgrades, and options for customizing the gameplay experience.
How to Play Swordz.io?
Play this game Swordz.io on Playem.io for free.

Swordz.io Update Notes
N/A